Please note: If you live in America and wish to recieve Spanish-Ham's products, please visit our alternative website by following this link
delicious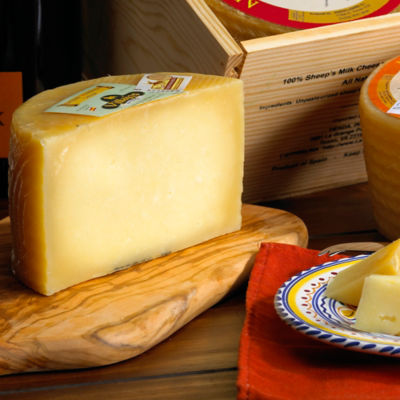 Artisan Villajos Semi-Aged Manchego Cheese
- 1/2 kilo of premium sheep's milk cheese
- Aged 3 months, award winning selection!
- Gran Seleccion Medal Winner 2005
Arguably the best Manchego sheep's milk cheese in Spain. It is churned by hand and then set aside to age for about 3 months. Villajos manchego has a hint of sharpness - somewhat like a Parmigiano cheese in texture – and becomes firm due to its substantial aging.
Fresh La Mancha Sheep's Milk Cheese
- Produced by award winning Villegas La Mancha
- Fresh pasteurized sheep's milk cheese
- Creamy and mild buttery flavor
Because this fresh Villegas La Mancha sheep's milk cheese has only aged for about two weeks, it is smooth, buttery, and bone white in color. Its texture is somewhat similar to goat's milk cheese, although its flavor is much richer.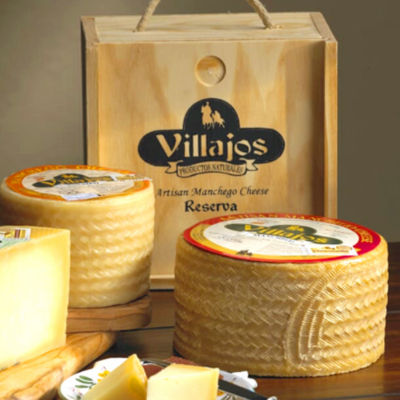 Villajos 'Reserva' Manchego Cheese in Wooden Box
- Gran Seleccion Medal Winner 2002, 2003, 2006
- Gold standard for Manchego cheese
- Great for gifts!
Villajos Reserva is an authentic handmade, raw sheep's milk cheese. The 9-month aged Manchego has a full rich flavor with a healthy sharpness. Slice and serve with olives and sliced Serrano ham for the authentic flavor of Spain.